ARC Launching Phase One of New Carrier Dashboard Tool
ARC is proud to unveil its new Carrier Dashboard — an easy-to-use tool enabling carrier customers to quickly access and view agency information. How simple is it to use? When a carrier customer logs into My ARC, the Carrier Dashboard link will appear automatically in the customer's toolkit.
Carrier Dashboard will be launched in several phases, beginning in July 2013. Phase One will provide carrier customers with overall views of agencies — displaying the following information for each agency:
The DBA (Doing Business As) and legal names
The agency's website (if applicable)
Email address
Phone contact information
The office type, entity type, and accreditation type
Agency status
The business, mailing, and ticket-delivery addresses
The ownership information, including share percentage, name of individual, email address, phone contact, and effective date
The entity owner information, including share percentage, entity name, entity type, and effective date
History for both individual and entity ownership percentage
The staff information, including name, effective date, email address, phone contact, and whether or not the individual is a manager or ARC specialist
Ability to search for the agency by ARC number, legal name, or Doing Business As (DBA) name
But this is only the beginning! More Carrier Dashboard phases will be launched in the future. In fact, we will be reaching out to customers like you to determine the next functionality to be released.
Tutorial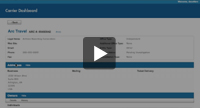 ARC Carrier Dashboard Tutorial 5:22
Thank you for using the new Carrier Dashboard! We believe it will provide you with a quick, efficient method to view agency information. We appreciate any feedback you may have for us. Feel free to contact our Customer Care Center at (855) 816-8003 or ccchelp@arccorp.com.